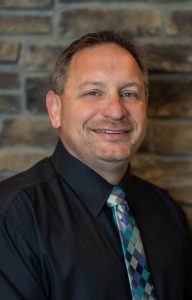 Dr. Forbes is an Iowa City native. With more than 20 years of experience in the field, he has had the opportunity to not only study at the University of Iowa College of Dentistry, but also serve as a faculty member for the University of Iowa Hospital of Dentistry (1999-2012). Dr. Forbes completed his General Practice Dentist Residency in 1998, followed by a fellowship in 1999. He enjoys all facets of dentistry, including, but not limited to, preventative dentistry, restorative dentistry, cosmetic dentistry, endodontics, implants, oral surgery, pediatrics, dentures and sleep dental therapy.
Outside of dentistry, Dr. Forbes enjoys supporting the University of Iowa wrestling team and spending time with his children, Ryan (daughter-in-law, Victoria), Anna and Abby. He loves to go fishing and garden, and he is an energetic Iowa Hawkeyes fan.
He looks forward to providing every patient with superior, individualized care – delivered in a way that is warm, friendly and comfortable.
Education
Science Education, B.S. | University of Iowa (1993)
University of Iowa College of Dentistry, D.D.S. (1997)
Memberships
American Dental Association®
Iowa Dental Association
International Team for Implantology
Fun Fact
During undergrad, Lance was part of the University of Iowa wrestling team. He was coached under Olympic legend Dan Gable.